Custom Apps for On Site Designers
Blending the latest technology with on site designers for Engraving, Printing, Embroidery helps keep everything organized and enhances the overall guest experience. Ink Wells® white label Design Software can be applied to any size event, in retail stores and on partner websites. Our interactive apps are fun, flexible and have enhanced guest custom product experience for brands like Lexus, New Era, Adidas, Salesforce, Microsoft, At&T, Motortrend, Chicago White Sox and many more.
LIVE CUSTOMIZATION TOOLS
Our team of engineers, designers and developers create Design AppS for Live customization of all product types. Our Live Customization software and designer apps are used by amazing brands at Live Printing Events, in retails stores and on partner websites.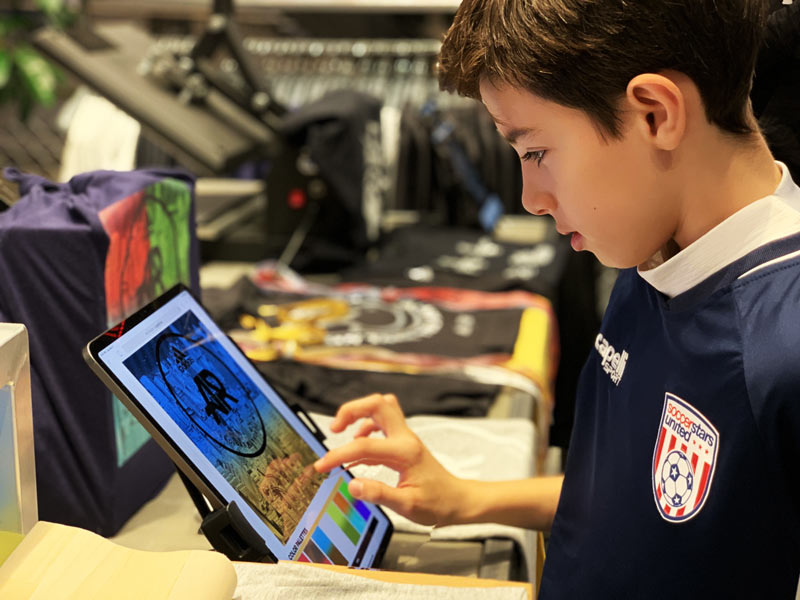 FLEXIBLE & ADAPTABLE Apps
we create unique tools that can be used across multiple platforms including mobile devices, medium format and large format displays.
Scalable & RELIABLE Tools for Personalization
OUR software and hardware Platforms are STABLE AND RELIABLE for large audiences and across multiple locations at once.
Custom Design for your brand – Unique private label software
Our design team creates unique designs that match the identity of your brand or special event so that your guests immerse deep into the experience.
How do guests create live?
Use your own photos
Uploading their own photos to create custom photo products like cell phones, mugs, bags, socks and apparel.
Layout Preset Designs
Use preset graphics and our drag and drop technology to make a 100% unique Items.
Custom Color Changes
Custom color changes on designs to be printed on dark and light apparel and more.
Add Custom Names
Add names, numbers and more for customization on items like Passport Holders, Baseball Gloves, Jerseys and more.
Compatible with mobile devices!
Its a touch sensitive web based app that can be accessed from mobile phones, ipads, large format displays and desktop computers. Users have the ability to select product, then select their product options like size, color, style and then are able to design the item from blank. All of the product options can be customized based on product details.Once an order is submitted a print ready file is placed into an order and are easy to manage for the event team.
Are you a live customization company looking for a software developer?
Our Interactive Event Software doubles as a great Lead Generation tool for many of our clients. Manage subscription sign up, process payments, gather and return client email or other information requests. Not only will our Live Design Software excite your consumers it will also be a great asset for your clients during Live Printing events.
Check out more of our Live Printing Work and Contact Us today to help create a more memorable experience with a Design App for Live Printing to create a deeper customization experience on site. Also check out our Live Design page for more updates on case studies.
NEXT STEPS. LETS CONNECT
Services to use with customization Technology