Superbowl LVI NFL Shop 2022
Los Angeles, CA
Custom Patches and Live Printing at the 2022 Superbowl in LA for New Era in the NFL Shop
Superbowl Shoe Palace custom shirts
LOS ANGELES, CA
Custom on site shirt printing at Shoe Palace in Beverly Hills with New Era Cap.
UCI World Cup with Mercedes-Benz Vans
Snowshoe, WV
Live Embroidery with Mercedes-Benz Vans USA at the UCI MTN Bike World Cup at Snowshoe West Virginia.
NBA Draft 2022
Brooklyn, NY
On Site Custom Printing at NBA Store in Manhattan and Live Printing + Engraving at Barclays for the 22 NBA Draft.
Toyota Overland Expo Series
Arizona, Oregon, Colorado, Virginia
On Site Engraving Leather patches on Bucket Caps with Toyota. 8 Stop Tour throughout USA.
Pacsun NYC Launch
New York City, NY
Live Engraving shoes with Reebok and Live custom embroidery at the Pacsun in NYC.
Pacsun x Storm Reid LA Launch
Los Angeles, CA
Euphoria star Storm Reid and Pacsun launched a collaboration at their DTLA Store and offered live custom embroidery for their guests.
Smart Factory Launch
Wichita, KS
Automation + Live Customization. Our team brought a unique model to life with an automated Boston Dynamics bot and live embroidery to celebrate the launch of the Smart Factory in Kansas.
Minnesota Vikings Training Camp
Minneapolis, MN
On Site live engraving custom caps with NFL team Minnesota Vikings at their 2022 Training Camp.
NYC Homecoming Concert
Central Park, NY
On Site Custom Shirt and Bucket cap printing in Central Park NY for the NYC Homecoming Concert
adidas NYC Flagship store Manhattan
Manhattan, NYC
adidas NYC Live Embroidery multiple locations on the same day
Hank Aaron Tribute Atlanta Braves
Atlanta, GA
On Site Embroidery with Atlanta Braves and Truist Bank.
NBA Draft 2021
Cleveland, Ohio
Live printing custom hats with New Era Cap in Cleveland Ohio for the 2022 NFL Draft.
College Football National Championship
Miami, Fl
Live custom printing shirts and masks at the College Football Championship Hame in Miami FL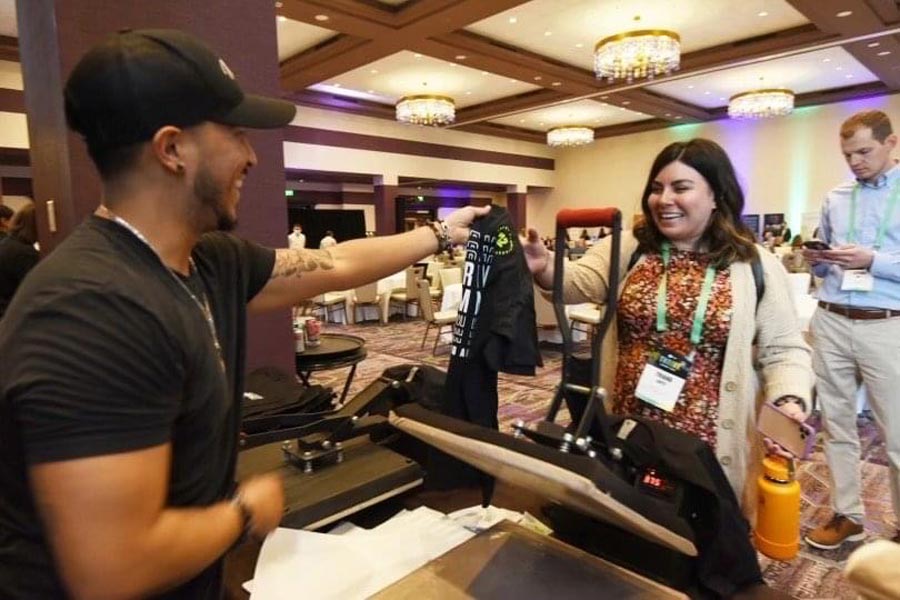 Virgin Thrive Summit
Austin, Texas
Virgin Thrive Summit Live Shirt printing in Austin Texas
NBA All Star 22
Cleveland Ohio
Custom Live Design and hat printing at the NBA All Star Game in Cleveland Ohio with New Era Cap
Mcgruber Show Premier Party
Los Angeles, CA
Embossing live custom dog tags for the Mcgruber Show premier in Los Angeles, CA.
NFL Draft 2022
Las Vegas, NV
NFL Shop activation custom embroidered patches and live printing for New Era Cap
We love our clients and the On Site events we work together on. Here you will find some of our most recent events featuring our Live Printing, On Site Engraving, On-Site embroidery and Live Design services.
NBA all star with new era
CHICAGO, IL
On Site Customization with New Era at the NBA ALl Star Game
CHICAGO WHITE SOX Soxfest
CHICAGO, IL
Live Shirt Printing and On Site Engraving with Chicago White Sox.
LA Marathon with adidas
Los Angeles, CA
Live In Store Engraving Shoes and Custom Shirts with adidas at LA Marathon
MLB ALL STAR WITH NEW ERA
Cleveland, OH
On Site embroidery and Live Cap Customization with New Era at MLB All Star
Custom Posters with Herschel
Toronto, CA
Custom On site digital poster printing with Herschel in Toronto CA
United Soccer Coaches Convention with adidas
Baltimore, MD
Live Printing Shirts, Mugs, and Clipboards for coaches and athletes at USSC
Engraving with Lexus
Palm Beach, FL
On Site engraving and monogramming luggage bag tags with Lexus in Florida
SEMA Show with MOtortrend
Las Vegas, NV
Live Printing Shirts with Motortrend Group at SEMA SHow Las Vegas
Milan Italy with ALight Solutions
Milan, Italy
On Site Printing Garments with alight solutions in Milan Italy
La Marathon with asics
Los Angeles, CA
Live Printing Shirts with Asics at the LA Marathon in Los Angeles, CA
Def Jam Records 35th Anniversary
Brooklyn, NY
Def Jam 35th Anniversary Party. Live Screen Printing Garments in Brooklyn
NY Marathon with adidas
New York City, NY
In retail printing with adidas at the New York Marathon – adidas Flagship
our teams pride themselves on organization with high volume output. We created a unique technology for customization that allows us to offer an orderly production flow while keeping track of large amounts of orders and consumer data all while giving the consumer a very cool design+create experience.
These events reflect thousands of processed orders all with unique variables within the project itself. To review deeper into the project click the links.